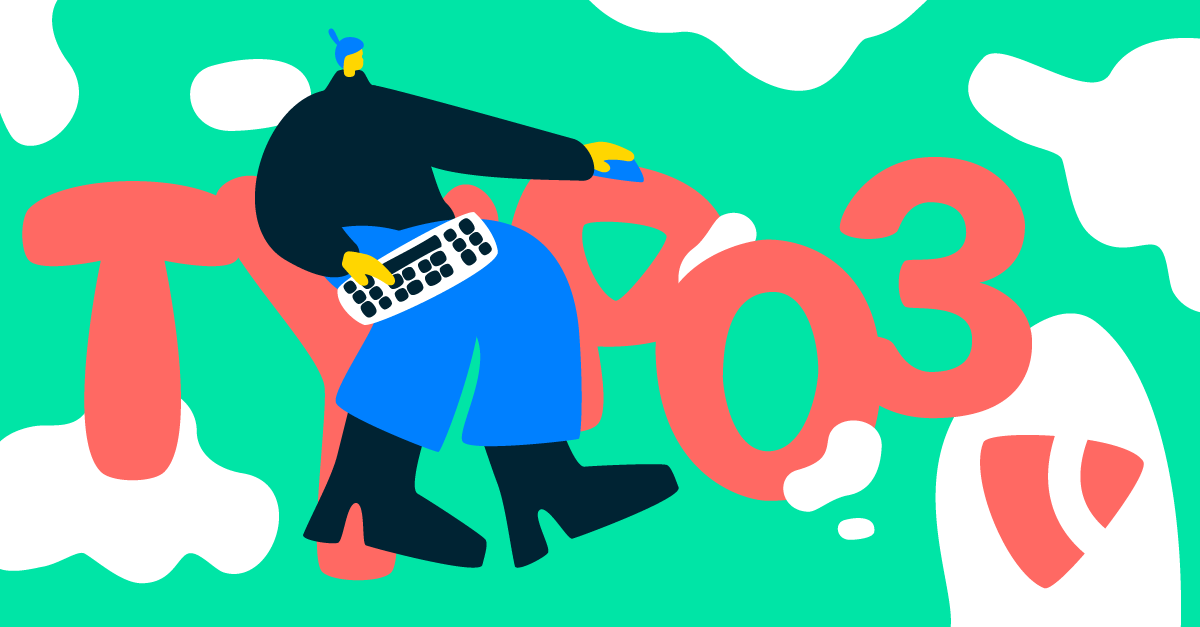 Before using TYPO3, we sometimes struggled to maintain all our websites correctly and quickly enough because they were created with different systems (Wordpress, Drupal, etc) on multiple versions.
Some of our developers specialized on one specific CMS, but this backfired as soon as one of the developers wasn't available. Another person had to take over and this could lead to increased reaction time as the developer lacked the knowledge on this specific CMS.
Therefore, we decided to go for one single CMS as our main application stack. And after much consideration we chose TYPO3. We have been working with TYPO3 since 2013, and since then no challenge has been too big to handle and we have been able to meet a wide-range of requirements from our customers.
Here are the 10 reasons why we chose Typo3 as the main CMS for our clients:
Typo3 is open source. You do not have license fees or legal obligations. Because the software is free, you can assign more of your budget into other services like design & marketing.
2. TYPO3 Community
TYPO3 has a very big and active community. That means that developers can contribute to the TYPO3 framework and make templates and extensions available to everyone. When encountering technical issues, we can rely on the many blogs, youtube channels, forums, support groups and even the official TYPO3 support team to help us out. We are also able to submit fixes to the Core Dev Teams if necessary.
3. PHP programming language
PHP is a widely used and well-known coding language. Which makes it easier for us to quickly find new talents to reinforce our team of developers. This eliminates also the struggle to be dependent on one single developer because all of our developers have the necessary Typo3 expertise to step in when support is needed...
4. Scalability
TYPO3 can handle both small websites for local businesses and complex platforms for big corporations like banks, insurances or state entities.
With TYPO3 you can host your website on multiple servers which gives you more stability.
Because when one of the servers is unavailable due to a power cut, technical issues or human error, the quickest way to return back to business is having a version of the same website hosted on a different server.
5. User-friendliness
TYPO3's contribution interface does not require any developer knowledge. It can be easily handled by anybody.
The tree view gives an overview of the entire website structure. Reorganising content can be done by a simple drag and drop. Compared to Drupal or Wordpress you don't have to click through multiple pages to reach the content you need to edit.
The simple interface reduces the time a contributor needs to spend to learn TYPO3 and because text contents and custom data structures use the same interface, it also reduces the development costs by not having to customise input interfaces.
The advanced user management system allows you to limit access to single features or parts of the website to specific users or user-groups.
6. Long-term support
TYPO3 has a healthy development roadmap with new major versions each year and regular minor updates for bug fixes and security updates. Compared to other systems, like Wordpress or Drupal, upgrades between major versions tend to be a lot easier to implement. This reduces the upgrade costs while allowing access to new features, increased performance and, more importantly, and best security.
With the extended long term support, which you can buy from TYPO3 you can even get support for older versions.
7. Easily extensible (flexibility)
Every Business comes with its own requirements and challenges. TYPO3 comes with a wide array of ready-made & well developed Extension API's and the possibility to add custom API's and custom content modules. You can set up TYPO3 to fit exactly what you need.
There's even an extension that helps you with your search engine optimization by giving you tips on Search Engine Optimisation or flesch reading ease.
API is the acronym for Application Programming Interface, which is a software intermediary that allows two applications to communicate. Ever used PayPal to pay for something directly within an eCommerce store? That's an API.
Safety is always a concern. TYPO3 is a self secured CMS and one of the most secure Open Source CMS. It also relies on a team of developers whose main task is to keep your data safe, as opposed to Wordpress, where it is advised to upgrade your versions regularly to ensure security. TYPO3 already has security features built in. These features get information about possible vulnerabilities in TYPO3 Core and its extensions.
9.Performance
Nothing is worse than slow websites. In order to quickly deliver content, TYPO3 uses multiple caching strategies. Other content management systems like Wordpress, need to add tier caching plugins. More plugins means more third-party maintenance and additional extension overhead. In reference to TYPO3 scalability, the ability to have copies of the website on different servers allows it to handle more visitors simultaneously.
Caching is the process of storing copies of website files in a cache, or temporary storage location, so that they can be accessed more quickly.
Even though many clients have very specific and unique requirements for their website, some modules can be used and shared on different websites. Over time, we have developed a whole range of modules which, after some adjustments, can be used on other websites. This can allow you to allocate more resources and time on everything else required for the launch of a new website.
We could go on and on with the list of features and why TYPO3 is a good choice. But in our opinion, TYPO3 is the go-to CMS for businesses seeking flexibility and reliability. And the user-friendly contributor interface is a real plus for quick adoption.
Take a look at Spuerkeess, Lalux, Fabeck Architects, or the municipalities of Hesperange and Leudelange to witness the diversity of websites TYPO3 can handle.